INSIGHT
An Evening With… Karen Lynch of Belu
Human Lending Library sessions last an hour but sometimes participants want more. So we decided to do something about it.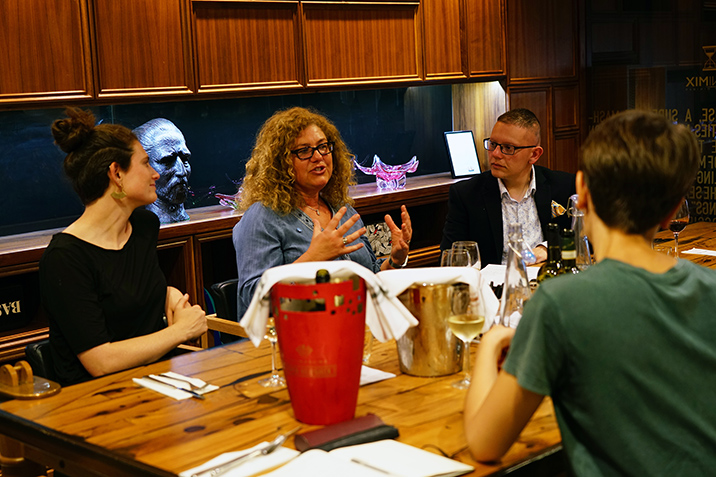 Through our Human Lending Library, social entrepreneurs can 'borrow' one of our experts for an hour to get advice on how to grow their organisation or address a problematic business challenge.
But, in the feedback we got after their sessions, quite a few social entrepreneurs let us know that they'd love the opportunity to spend some more time with our expert in a more informal setting. So we thought we'd try and do something about that.
On 18th June we hosted a dinner with Karen Lynch, CEO of water company Belu.
Karen is one of the superstars of the social enterprise world. When she took on the role of CEO in 2008 the water company was £1.9m in debt – and then the recession hit.
Karen changed the look and model of the brand in 2011, switching from direct distribution to wholesale. These changes helped the fortunes of the company turn around. Since then, £4m of profits have gone to WaterAid, bringing clean water to 270,000 people in developing countries.
The evening with Karen was made possible with the support of players of the People's Postcode Lottery.
Joining Karen around the table were people who had borrowed her from our Human Lending Library: Anna Gross of Project Access, which helps disadvantaged students access university places, Joanna Hamer of Juta Shoes, which employs women who face barriers to work, and Cemal Ezel of Change Please, which trains homeless people as baristas.
Unlike the Human Lending Library, where a relatively inexperienced social entrepreneur is looking to take advantage of an expert's greater experience, the dynamic around the table was different.
"It was wonderful to be able to talk with other social entrepreneurs in such a relaxed and informal environment," Joanna told us.
"Being able to chat and share experiences was so helpful in understanding the wide range of ways to be leading a mission-driven business: what we had in common and all the ways we were doing it differently!"
If it's true that it's lonely at the top, the camaraderie evident on the night helped ensure all present that they weren't alone with their challenges.
We've already published a list of the ten of the best bits of advice to come out of the conversation on the night. It's a great resource for social entrepreneurs to refer to in challenging times.
In short, the evening was a great success and we'll be looking to run more of these events in the future. Get in touch to tell us who you would like to meet and if you'd like to take part.