INSIGHT
How (and where) to change the world
The best place in the world to be a social entrepreneur is revealed at SEWF; influencing corporates to behave better was mulled. And there was the unexpected return of the conga.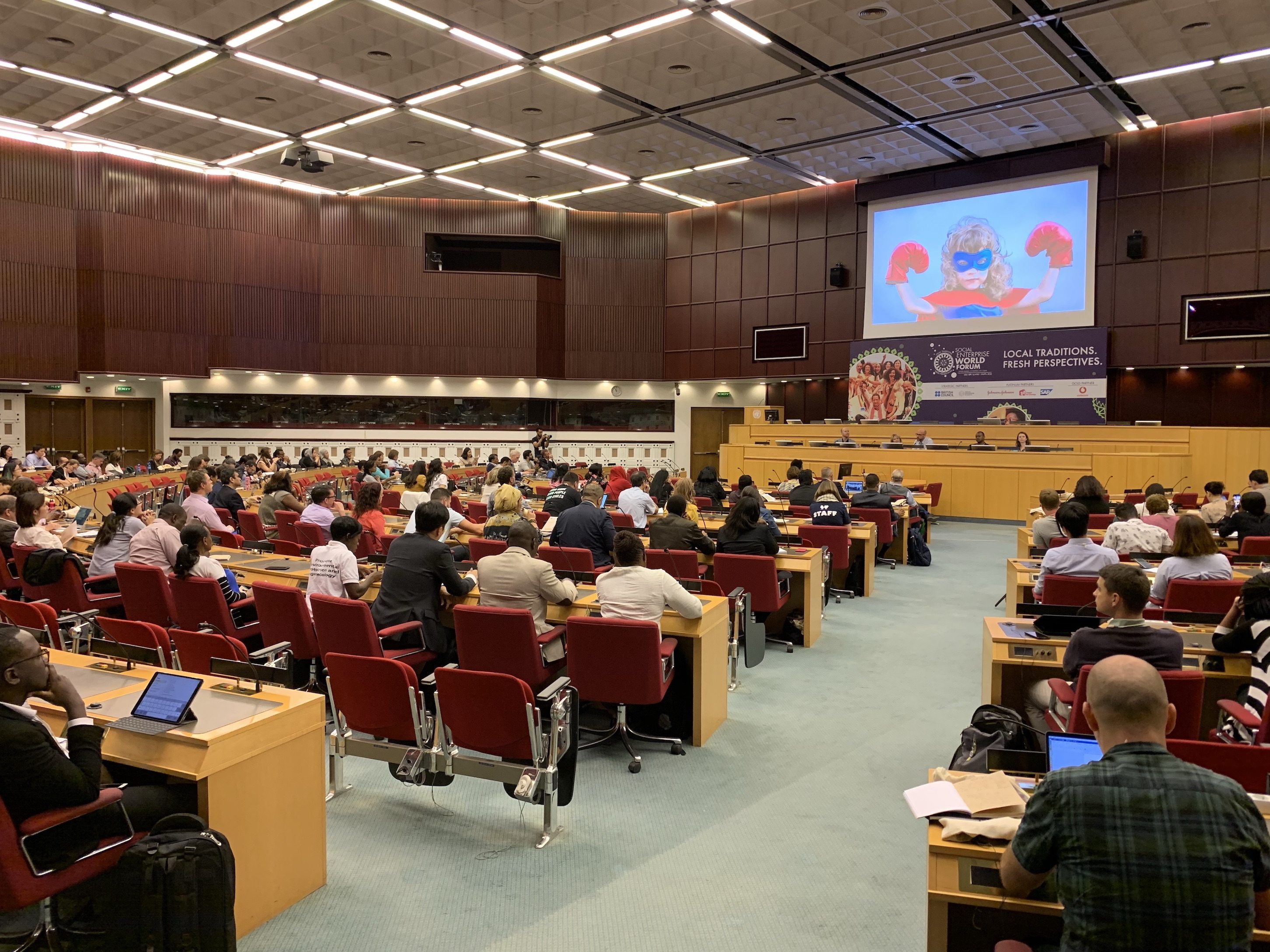 Where is the best place in the world to be a social entrepreneur?
The Thomson Reuters Foundation unveiled the answer at the morning session on the first day of the Social Enterprise World Forum. Their survey looks at the 45 biggest economies in the world; given this conference is taking place in Africa, it must have been a little galling for the audience that only three African countries were included in it.
It's worth reading the Pioneers Post coverage of it, which drew criticism of the poll from some in the social enterprise community. The British Council, which has produced many reports on social enterprise in different countries, also took part in the 'mapping social enterprise globally' session.
Downstairs at the UN Economic Commission for Africa there's a marketplace where all sorts of products and services are on display. Bags made out of discarded seatbelts caught our eye, as did the scarves and jewellery at Ellita Products that take women out of prostitution by giving them another way to earn a living.
The opening speeches were enlivened by the hugely exuberant MC Munit Mesfin in a hall that is not a million miles from feeling like the UN General Assembly (see picture above).
If you can measure how seriously social enterprise is taken in the country where the forum is hosted by the government minister that shows up, Ethiopia sent Dr Tilaye Gete Ambaye from the Ministry of Education.
Per Heggenes, CEO of the Ikea Foundation, also took a turn at the microphone and how to positively influence major global companies like the Swedish furniture giant was a prevailing subject of conversation around the margins of the forum.
Helen Malandain alluded to it in her speech by urging delegates "to make the case for social enterprise irrefutable, to advocate and influence."
During the coffee break senior figures from the UK social enterprise scene were trying to figure out how they could influence big companies to behave better, particularly the ones that some of them receive sponsorship and support from. What bigger challenge could social entrepreneurs put in front of themselves than global systems change?
And as all good evenings maybe should, the first day of the Forum ended with an unexpected conga line at the British Council's bash. The social entrepreneurs were obviously thirsty and in the mood to celebrate when they arrived, and made short work of the bar.
Let's hope that energy is inexhaustible. If systems change is going to happen, social entrepreneurs are going to need it.