INSIGHT
Five Fantastic Female Focused Social Enterprises
… for International Women's Day. Meet the businesses that are putting ladies first.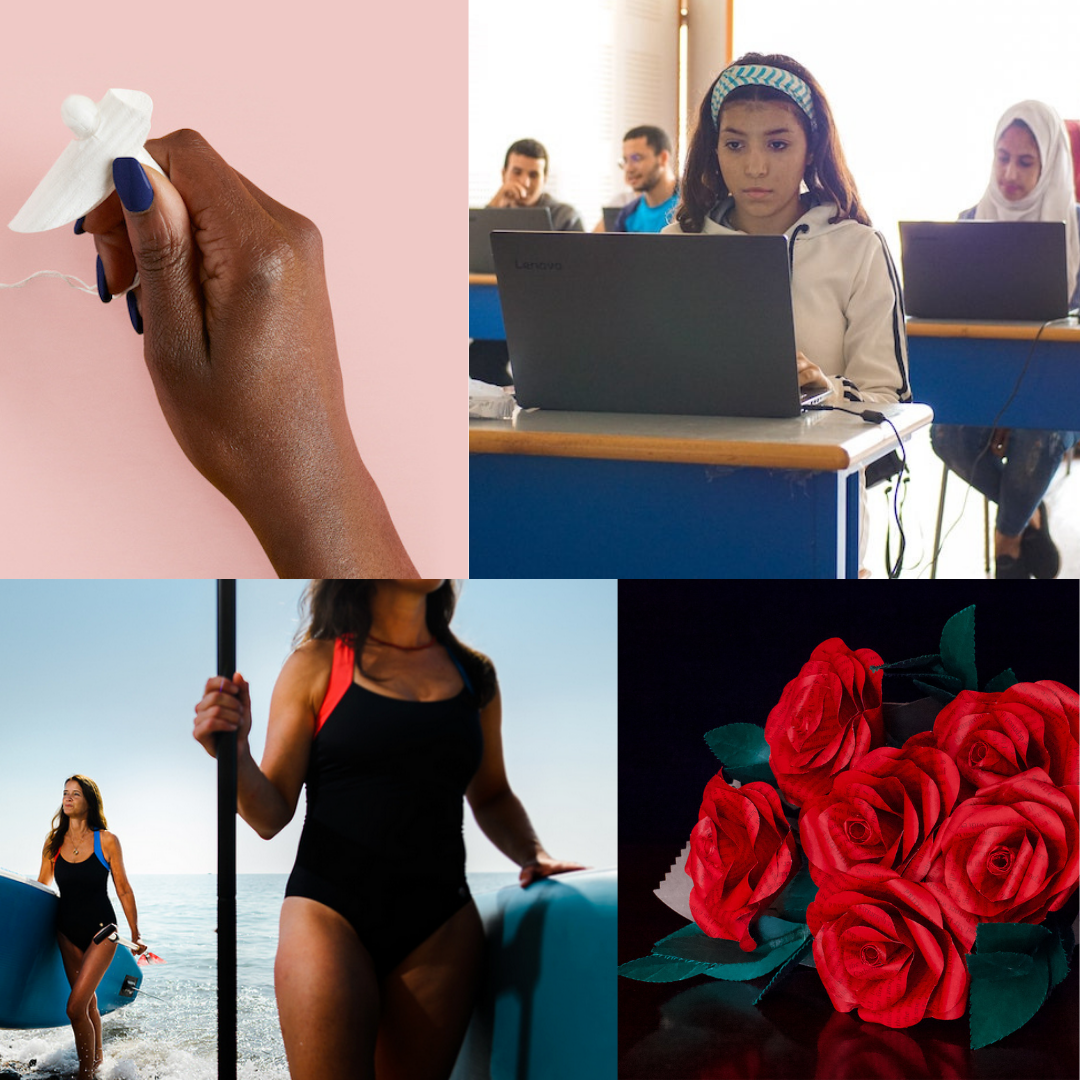 International Women's Day, which celebrates the social, economic, cultural and political achievements of women, gave us just the excuse we needed to point you towards some of the fantastic female focused businesses in the Human Lending Library alumni group. Get ready to be inspired!
1.Primetime
What is it?
A vetted visibility platform for all women working behind the camera, campaigning for gender equality across every department in the entertainment industry. That means all the producers, writers and directors, but also all the on-set crew.
Primetime provides the industry with a simple solution to look at its hiring practices and find inclusive teams. Members come from 50 countries and include multi-BAFTA, Emmy and Academy Award winners. Members can upload CVs, bios, awards, projects but also personal information such as the pronouns they prefer and whether they are from an underrepresented background. The site is kept free of profile pictures to combat unconscious bias as we want our members' work to speak for itself.
Why did you start Primetime?
Primetime was created following an industry-led call-to-action during Time's Up UK meetings to have an easily accessible list of professionals for companies and studios to look at their hiring practices.
No longer can we accept the excuses: "There were no female applicants for the position" and "If you get more women applying for jobs then the percentages will rise" or our favourite, "Where are all the women?" So now the answer is: you can find them at Primetime.
How long have you been in business?
May 2021 will be the two year anniversary of our launch.
What difference have you made for women?
Along with our Primetime Pledge events, which allow those with hiring power to commit to making real change, we are creating a supportive network of women working in every department behind the camera in over 55 countries around the world.
At the BSC Expo 2020, we partnered with BECTU and delivered 260 1-2-1 meetings for underrepresented professionals in the camera department over just two days resulting in jobs on high end TV for our members.
These events have now moved online and are proving equally as successful, with members creating work connections around the world, proving the need for this type of networking for both those getting hired and those doing the hiring.
2. Callaly
What is it?
A period care company that has invented a totally new product – the tampliner – offered in a customisable subscription box alongside a range of other organic cotton products. Callaly is a registered B Corp and in 2018-19 gave more than 5% of sales to organisations that improve the lives of people with periods, especially those who don't have access to affordable products. In the past that has meant supporting amazing people such as Days for Girls, Red Box Project and Bloody Good Period.
Why did you start Callaly?
In 2014 gynaecologist Dr Alex Hooi came to his friend and finance expert, Thang Vo-Ta, with the idea for a tampliner. Alex had spent his 30-year career listening to people who felt let down by period products, particularly due to leaking; 70% of tampon users were doubling up with a liner just in case. The tampliner solves this problem by combining a tampon with a mini-liner for extra protection against leaks.
Alex and Thang were joined by a third co-founder, Ewa Radziwon, a super-talented garment technologist who has worked tirelessly to turn the prototype of the tampliner into the final product sold today.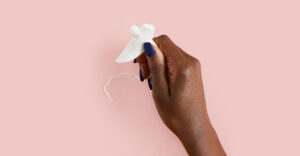 How long have you been in business?
Seven years.
What difference have you made for people with periods?
Every decision we make at Callaly, no matter how small, is taken with an eye on the wider impact. All our packaging is recyclable, biodegradable and/or compostable, and we use only organic cotton. We also manufacture to the highest quality standards, putting our customers' health before our bottom line, even when we're not required to by law. We also use our social media feeds and blog, Currents, to help bust the period taboo, normalise menstruation and empower all people with periods to learn more about what their bodies can do.
At Callaly, we've learned first-hand that our community is gender diverse – one of our first customers was a man – and we are working hard to centre the voices of all people with periods. Whatever your gender, faith or body, everyone deserves to feel seen, heard and represented, and we actively encourage the rest of the period care industry to make its advertising more inclusive.
3.Ruby Moon
What is it?
The worlds only not for profit swimwear & active wear company with both positive environmental & social impact. Ruby Moon uses use waste nylon (such as yarn from old fishing nets) and plastics that would otherwise eventually find their way into our food chain – turning pollution into something beautiful
Why did you start Ruby Moon?
"I wanted to prove that a fashion or clothing business could have positive environmental and social impact rather than degrade our planet and people," said founder Jo-Anne Godden. "Imagine if we could 'flip fashion' to create long lasting and beautiful garments in living wage conditions with pride? How brilliant that would be to empower women globally?"
How long have you been in business?
10 years today! Ruby Moon started trading on International Womens Day in 2011.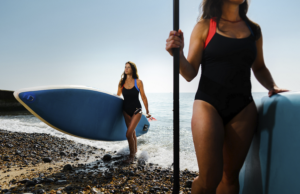 What difference have you made for women?
100% of the net profits generated by RubyMoon are lent out as small loans to empower women entrepreneurs in eleven nations.
This is because women are seen as the 'change' agents of the family and spend a larger amount of their income on improvements in the health, nutrition and education of the whole family but particularly children. All of their Gym To Swim pieces are named for the women we invest in – the photo above of 'Sorphea' is named after an entreprenuer in Cambodia.
RubyMoon loans through lendwithcare.org and to date, has made over 200 loans. Case studies showcasing some of the women they have helped can be seen on their blog.
4.Douar Tech
What is it?
Douar Tech is a Moroccan inclusive tech hub offering programmes in rural and peri-urban areas. Our mission is to promote the resilience of vulnerable young Moroccans, especially women and those living in rural and peri-urban areas, through training in entrepreneurship, web development and other technology-intensive skills.
Why did you start Douar Tech?
When Hanae Bezad returned to her home country after a decade abroad in 2017, she founded Douar Tech to contribute in sowing a positive future for the vulnerable youth of Morocco. After a year of preparation, Douar Tech launched its first project in the village of Sidi Yahya Zaer to teach 35 young people in entrepreneurship and digital skills. This prototype produced six unique enterprise solutions in the local community.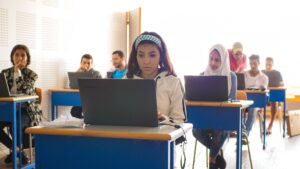 How long have you been in business?
Douar Tech was founded in 2017, introducing its first prototype in 2018 and pilot program in 2019. Since then, we have quickly scaled to impact female entrepreneurs across Morocco and now through a pan-African program with female leaders across the continent.
What difference have you made for women?
Women in our programs continue to harness their skills in web development, realize their entrepreneurial projects, and disseminate knowledge in 21st century digital skills to their local communities. They are also able to secure their first paid working experience through Douar Tech and benefit from mentor relationships. Ultimately, the women in our programs consider Douar Tech, operating as a decentralized hub, as a home base and safe space where they can develop themselves and find resources or networks that will propel their journeys forward.
5.Page & Bloom
What is it?
Page & Bloom is a paper florist, creating handmade paper flowers from recycled materials for gifts, weddings and corporate events. We create employment and training for women survivors of domestic abuse.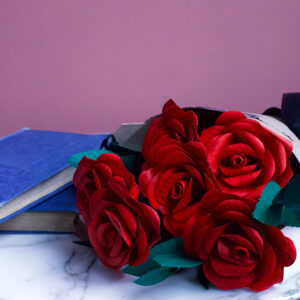 Why did you start Page & Bloom?
Financial independence is crucial in helping women rebuild their lives after domestic abuse, and is a really important factor in reducing the risk of returning to an abusive relationship. But for many people who have been through an abusive relationship, it can be difficult to find work. The abuse may have affected their previous jobs – they may have had to take lots of time off, or leave a job suddenly, or their abuser may even have prevented them going to work. People's confidence is also shaken, so taking that first step into, or back into, work can be really daunting.
Founder Rosie Oglesby wanted to create jobs for women that are flexible and fit around their lives, and a supportive environment that can be a stepping stone back into mainstream employment. "But it's more than just the money," Rosie said. "Having a job can also help with confidence and self esteem, and is a way to build up a social support network too. Before the pandemic, we'd have women all sitting round a table making flowers together, and chatting and supporting one another. I can't wait until we can get back to that!"
It was important to Rosie that the product is something beautiful and creative, and that the job is about making an amazing product that people love. It's not about charity, she says, it's about building a brand that women are proud to work for.
How long have you been in business?
Nearly three years.
What difference have you made for women?
We have created jobs for five women, who are employed to make our flowers. As well as earning money, having a job has also helped people to rebuild their lives in other ways. For example, having proof of income and employer's reference has helped people to secure rental tenancies and move into their own place.
We also run an employability training programme and paid work experience placements, where we help women who are living in refuges to learn transferable skills such as admin, customer service and marketing. So far we have supported seven women, and will work with another five by June this year.
We also offer free flower making workshops for residents of women's refuges, where people can learn a new skill and come together to do something creative.
The leaders of these businesses have used the Human Lending Library for mentoring to scale their businesses. To find yourself a mentor, start here.
Cover image: Ruby Moon swimsuit by Chris Parks