INSIGHT
How to grow your charity or social enterprise
After eight years growing The Girls Network, CEO and co-founder Charly Young offers tips for scaling and creating more positive social impact.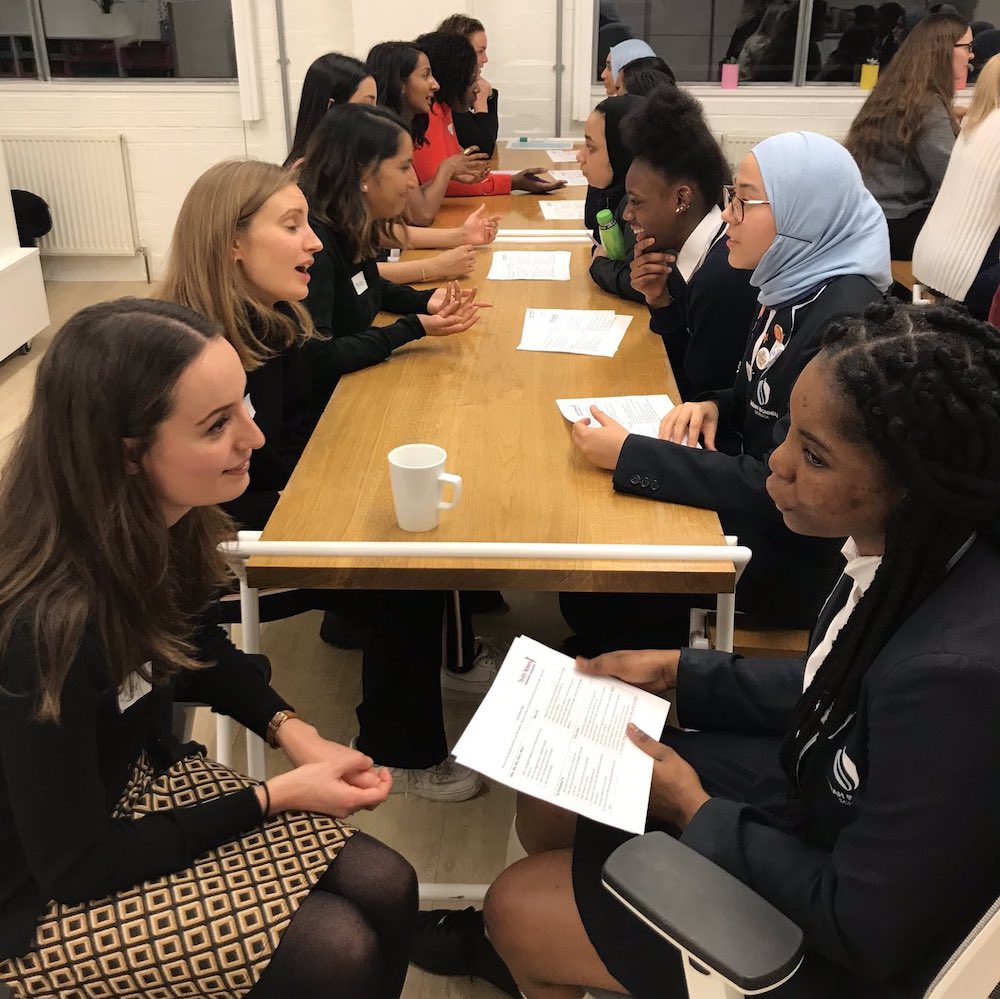 Charly Young was moved to start The Girls Network (TGN) when she realised the limited aspirations that some of her female pupils had whilst working as a teacher. "They were coming from communities where, often, the adults weren't working, or they were just doing jobs to bring in money rather than pursuing careers they were passionate about."
Often the girls had expectations about the kind of jobs they would get that were limited to the kind of low income, low status roles they saw the women around them doing, commonly: cleaning, catering and cashiering. The Girls Network pairs girls with professional women who act as mentors, showing them what's possible and the route to get there (see photo above).
Having run The Girls Network for eight years, Charly is well placed to offer advice about scaling. There were 30 in the first group of girls they worked with; now TGN supports 1400 annually, in eight different regions. Charly's staff has grown in that time too, from two to 20.
As part of our partnership with Global Health Corps (GHC), we asked Charly to share what she had learnt about scaling with GHC alumni in Eastern and Southern Africa and the United States. These are the leaders of fledgling social enterprises working in the health sector.
Here's what we learnt, but as Charly herself points out, growth should not be just about the numbers. "It's about: how can we have more impact?" she said.
Set boundaries
Charly is a big advocate of settling on a Theory of Change (TOC) for your organisation as soon as possible. "We needed to know what we were doing, how we were doing it and why. This might sound really basic but it's really important to get the foundations right before you start to scale," said Charly.
The Girls Network's Theory of Change:
set out the problem they were looking to tackle,
where the barriers to progress were,
the interventions they could make and,
the outputs that resulted.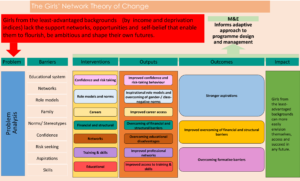 The last part of the table showed the outcomes that would result from their work and the situation they were aiming to achieve.
Charly told her audience that this helped make decisions. Offers came to run school assemblies and work in different countries and she would refer back to the TOC when opportunities presented themselves, turning them down if it didn't fit into their model of progress.
"We had to know what to say no to so we could focus on what we knew had impact, and so we had the resources and focus to implement and then scale it." said Charly.
2. Understand the scale of the problem or opportunity
To do this Charly had to do her research. To help disadvantaged girls, one marker that stood out were the 140,000 girls who were entitled to free school meals. Poverty indices published by the UK government helped her to find out where they were and which regions she could start with.
Her team considered what the elements were for their model to work. For example, if there was a lot of need but few schools, her mentoring wouldn't work. Could they find enough local mentors for it to work? Which areas of the UK were attracting funding they could apply for? Doing the research and establishing a criteria of the key elements that needed to be in place helped identify areas where the TGN model could work.
3. Test and iterate
This helped Charly identify the scale at which The Girls Network could operate. The organisation started in London, but the next area the research pointed to was the south-east of the UK. The need and the schools were there and she found some people locally that were well connected that could help source mentors.
The experience helped shape how The Girls Network might need to grow over the next three years. Aiming to reach 25% of those 140,000 girls they had initially identified within 10-15 years, the team did some future gazing.
"Who did we need employed? What different roles were they going to do? How much was that going to cost us? Where were they going to get that money from? And we worked back from there," said Charly. It meant they could establish a Target Operating Model for the next three years.
4. Listen to your customers and beneficiaries
Charly felt that feedback was crucial to the growth of The Girls Network. She regularly speaks to the schools to ensure they are satisfied.
"If what you deliver is not high quality and you are not meeting a need and priced competitively, you will not grow," said Charly.
She also contacts the mentors to ensure they are getting a lot out of it, are having a good time and feel supported. To do this she uses focus groups as well as having face-to-face conversations.
A critical learning gleaned from such activities was that the mentors wanted to connect, network and learn from each other. The Girls Network organised workshops for them and tasked organisers with arranging local meet-ups. This created a useful community of advocates, which brought more funding and mentors to them so it's worth considering who you could use in your ecosystem that might help you scale.
5. Invest in your core
"Such a big learning for me is how important it is to hire good people, by which I mean, those people that understand what you are trying to do and share the values of the organisation, and have the skills you need." said Charly.
She recommends trying to employ people that are better than you, which she knows feel scary but has found to be true. This was something John Frieda (whom she met for a mentoring session with Expert Impact) recommended to her quite early on in her journey.
"I sort of heard it, but it didn't really connect with me until we started hiring people and until we got it wrong. We had to let people go and then it really hit home; this is one of the most important things you have to do when you're scaling – get the right people," said Charly.
Need some help scaling your organisation? Charly is one of more than 70 Experts available who can offer advice and mentoring. For more information, click here.