INSIGHT
The Female Lead is changing perceptions about what women can be
Because it's International Women's Day on March 8th, we took a look at The Female Lead, an initiative that offers a wide spectrum of role models to young women.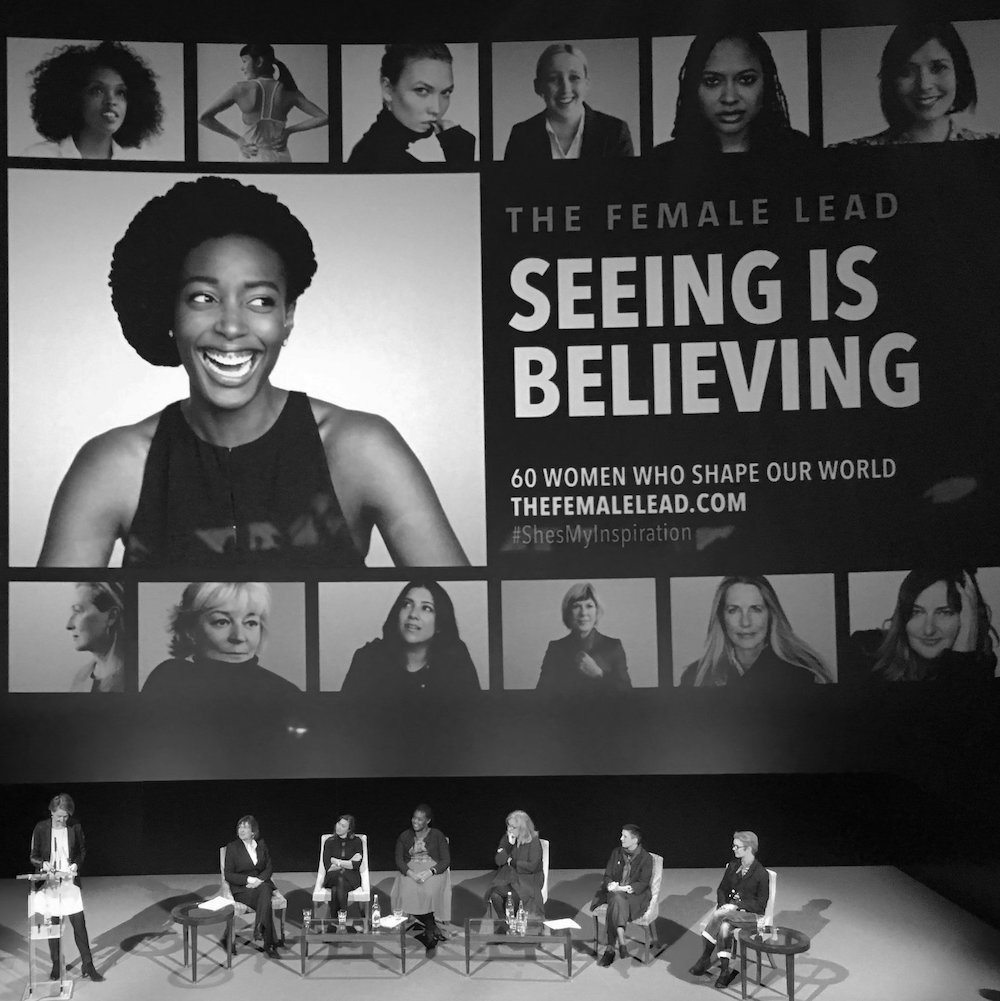 It's fair to say that Edwina Dunn's life didn't turn out the way her elders thought it would when she was a young girl.
"I didn't think I was going to have a career. I mean, my mother was a housewife and her wish for me was to get married and have children right from when I was at school. 
"The careers officer said to me, well, you'll either be a secretary or a teacher or a nurse and that's what we got told," said Edwina with a shrug of her shoulders when we met her at the central London offices of her company Starcount.
Starcount has evolved from Edwina and husband Clive's foresight in realising the value of customer data, which they first did way back in 1989.
When they presented their theories and research to the board of supermarket giant Tesco in 1994 chairman Lord MacLaurin told them, "What scares me about this is that you know more about my customers after three months than I know after 30 years."
As a result the Tesco Clubcard, one of the first supermarket loyalty schemes, was born. 
Now Edwina is using her expertise with data to fight assumptions about the kind of professional lives that girls can expect to have. 
Her project The Female Lead is changing the narrative on what women can be so that mothers and careers officers don't offer the kind of limited choices she was presented with as a girl. 
"We know that showcasing diverse role models is essential for inspiring future generations. We know that girls are eager to see women who are different from those who are long-dead or those ever-present in celebrity media today. 
"We know that it's important to tell the stories of women who have found success in what they have done, not just how they look," said Edwina.
This last comment is most vividly illustrated by a video (above) introducing The Female Lead in which girls are asked who they think are the most influential in the media.
Kim Kardashian, Kim Kardashian, Kim Kardashian they parrot, one after the other, before the film moves to show them start questioning why.
"I think the female body is very overly sexualised in the media," says one. "I don't know what the Kardashians actually do," mulls another.
Starcount analysed the social media habits of 1.3 billion male and female teenagers and found marked differences between the genders.
Amongst the boys they found diverse interests: sport but also everything from business to gaming to politics. For the girls, it was almost exclusively celebrity and fashion. Following that, they went and talked to girls aged 14-17 in several UK schools. 
"All of the girls came back with: I consume a lot,  I spend a lot of time on it and essentially it makes me feel fairly rubbish," said Edwina.
The researchers then suggested four new accounts that each person could follow that corresponded to their interests.
"Everything from NASA to ballet or business," said Edwina "After that they said it completely changed the way they thought about themselves and their place in the world and we couldn't believe how resoundingly clear the results were."
Now The Female Lead is trying to change social media for good. The project has produced a raft of stories and videos on females of every stripe: politicians and artists, journalists and teachers, engineers and campaigners, firefighters and film stars. 
Edwina credits her young, digital savvy team for then adapting those stories to fit the spectrum of platforms young people use, like Snapchat and TikTok.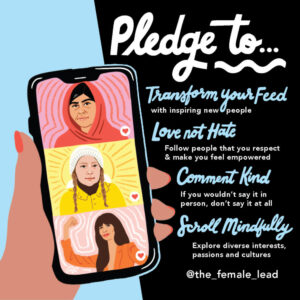 "Women are seriously under-represented in business, political, and scientific leadership.  And seeing is believing. Without self-belief and ambition, the problem of equality cannot be solved. 
"We want to show what could happen if women start to believe in their own abilities, to encourage and inspire them to aim higher and to reach their full potential," said Edwina.
There is also a beautifully produced book that schools can ask to be sent to them with 60 examples of female role models within; 18,000 of them have gone out so far. 
Teaching materials that help shape discussions around the subject of female role models and ambition are also available. Edwina's hope is that it could all lead to more diverse workplaces in the future.
"I spent much of my career in retail boardrooms, made up entirely of men. There were few senior females in business when I started out and even fewer female entrepreneurs," said Edwina.
She encountered sexism during her career. She tells us men would often address her husband in preference to her in meetings "So I'd sort of leap in and I'd always get this look on their face, which is like 'she's his wife' or something like that," Edwina relates. 
Sometimes when she would pitch an idea to a room full of men, they would only get enthused when her husband repeated the idea.
Edwina used it as motivation and the last laugh is undoubtedly with this now wealthy and successful woman who is trying to change things for the next generation. 
"In all honesty women are still either the finance or the HR person on the board. And I kind of resent that. Why is it not the technology person or the chief customer officer? There is still lots of work to do," she said.
As she says herself: you can't be what you can't see. The Female Lead is changing what young girls can see for good.
Edwina Dunn is available as one of our business mentors through the Human Lending Library. For more info, click here.