INSIGHT
A bigger piece of the pie?
Pizza social enterprise The Good Slice had proved a hit at festivals and events. Was the next step to open a restaurant? Mentoring from Jimmy's Iced Coffee founder Jim Cregan helped with the next step – and beyond.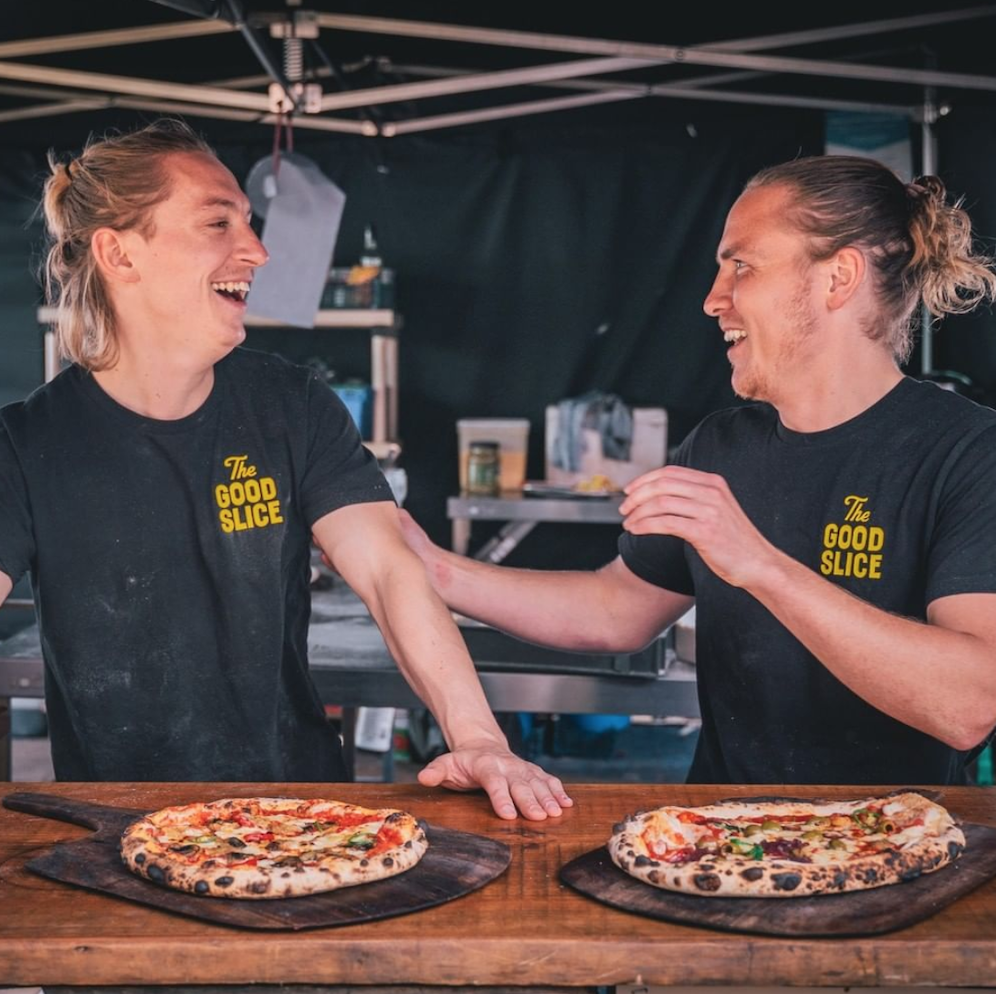 The Good Slice make pizza with a difference. Not only does it taste good, but it does good. Since they started up in 2017, selling their Neapolitan pizza at festivals and catering at events,  they've used their profits to feed other people too. So far that's meant 5,000 meals for the children of Well Wishes Nursery in Malawi and 12,000 meals to London's homeless community.
Selling pizza at festivals meant their work had become largely seasonal so, two years after starting out, was the obvious next step a permanent home? A meeting with Jim Cregan of Jimmy's Iced Coffee through the Human Lending Library helped The Good Slice co-founder Ed Kellard (pictured above on the left with co-founder Calum Wragg-Smith) settle on an answer.
Before taking on the expenditure of opening a restaurant, Jim suggested a stepping stone to their own place: a pop-up space. Off the back of the meeting with Jim in November 2019, Ed and his co-founder started negotiations for a space in Flat Iron Square, a street food market close to London Bridge. 
The advent of Covid-19 meant things took longer than expected but by December 2020 The Good Slice had secured a spot and were trading there. It went well, but then lockdown happened again. Despite this, Ed remains upbeat. "January/February is sort of dead normally in hospitality terms and we've got some time to plan," he said.
His conversation with Jim had gone on to explore how marketing could help them grow. As a result they worked with an event production company to help them devise a way of growing awareness of the brand at the festivals they were expecting to appear at during 2020. 
Although the pandemic took hold and festivals were cancelled, Ed said they will implement those plans when events can be held. In short, they've figured out a way for technology to help them acquire a database they can potentially market to. 
"We want to build a community of supporters of the brand so, in time, when the brand grows up, you've got a loyal following who are engaged with what you're doing," said Ed.
Jimmy's Iced Coffee is available in all major supermarkets and Jim also shared with Ed how that might be achieved. 
"It set us off thinking about a product on shelves in time. Jim has a wealth of knowledge on how you market that, how you get your products into shops. That was an area that I hadn't thought of or understood fully. It took our minds elsewhere and made us realise what was possible. It was nice to get a look into a different way that things might go. It opened our eyes," said Ed.
Ed and co-founder Calum now have a roadmap of where they want the business to go, and a plan for how they'll get there. 
"The conversation with Jim made us focus, realise we couldn't do it all, but it was about setting timelines. You need to be realistic and focused, so the impact of that conversation on our organisation was the importance of focusing on singular objectives and making sure that they are nailed, then moving on," said Ed
And there has been a silver lining to the pandemic; it pushed them into producing their first product – a boxed, build-your-own pizza kit that they've been able to trial selling locally in south London. Jim also offered to stay in touch should they need further support from him.
"We really do think the Human Lending Library is a wonderful programme and a wonderful idea. We've had a lot of value from it," said Ed.
The Human Lending Library has supported more than 260 social entrepreneurs with various business challenges. In our latest impact report, they reported an average increase in turnover of 19%. Click here to find out more.