INSIGHT
Human Lending Library alumni report increased revenue and job creation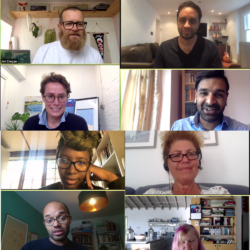 Our latest impact report finds that an expanded Human Lending Library supported social entrepreneurs to create social impact across all 17 UNSDGs as mentors boosted confidence and helped with strategy.
Social enterprise and charity leaders using the Human Lending Library reported significant increases in turnover and job creation between July 2019 and June 2020. 
Social entrepreneurs are asked to submit data about their organisations when applying to the free service and again three months after meeting with a mentor.
Those who told us the experience helped to grow their business reported an average increase in turnover of 19%, with an average of 1.3 jobs created.
"The figures show that the advice that social entrepreneurs are getting from the Human Lending Library is working; it is giving them the confidence to adjust strategy, grow and do more. Revenues are increasing and jobs are being created, resulting in stable social enterprises and charities creating more social impact," said Kendra Walsh, Director of Expert Impact.
The Human Lending Library was used by 57 leaders of charities, social enterprises and ethical businesses in the period July 2019 – June 2020. Feedback from these meetings was scrutinised for our latest impact report, which can be found here.
Hector Smethurst, founder of Appt Health, a social enterprise easing the delivery of preventative healthcare by improving appointment and reminder systems, was one of them.
"When I met Tom Adeyoola, I had been struggling with a complex issue facing my social enterprise and had been getting nowhere – running and re-running the same discussion in my head," said Smethurst.
"Tom was able to give me advice and guidance based on years of experience across a successful career. I came away with so much more clarity than when I went in, having made more progress in one hour than I had made in the last month." Tom's staff has doubled since using the Human Lending Library in January 2020.
Founders or CEOs of organisations tackling any of the UNSDGs can "borrow" one of more than 70 business experts, for free, for mentoring on a wide spectrum of leadership challenges including investment, business development and strategy. More than 240 charity and social enterprise leaders have used the service to date.
Social entrepreneurs are matched to experts according to the particular business challenge they want to address. The Human Lending Library added 30 mentors in the period covered by the impact report.
Experts available include many founders of businesses that are household names, including Sir Charles Dunstone of Carphone Warehouse, Chloe Macintosh of Made.com and successful British designer (and star of the BBC's 'Great British Sewing Bee') Patrick Grant.
"It reminds me that I need to walk-the-walk as well as talk-the-talk. It makes me think hard about my own business," said Grant, who has set up his own social enterprise Community Clothing since he began mentoring with the Human Lending Library in 2015. 
The Human Lending Library is free to use. Click here to find out how it works.