INSIGHT
Social entrepreneurs partner to help homeless and refugees
Proving you're never too young to be a social entrepreneur is 17 year old Jacob Bell, whose candle making has led to a partnership with one of the poster boys of social enterprise.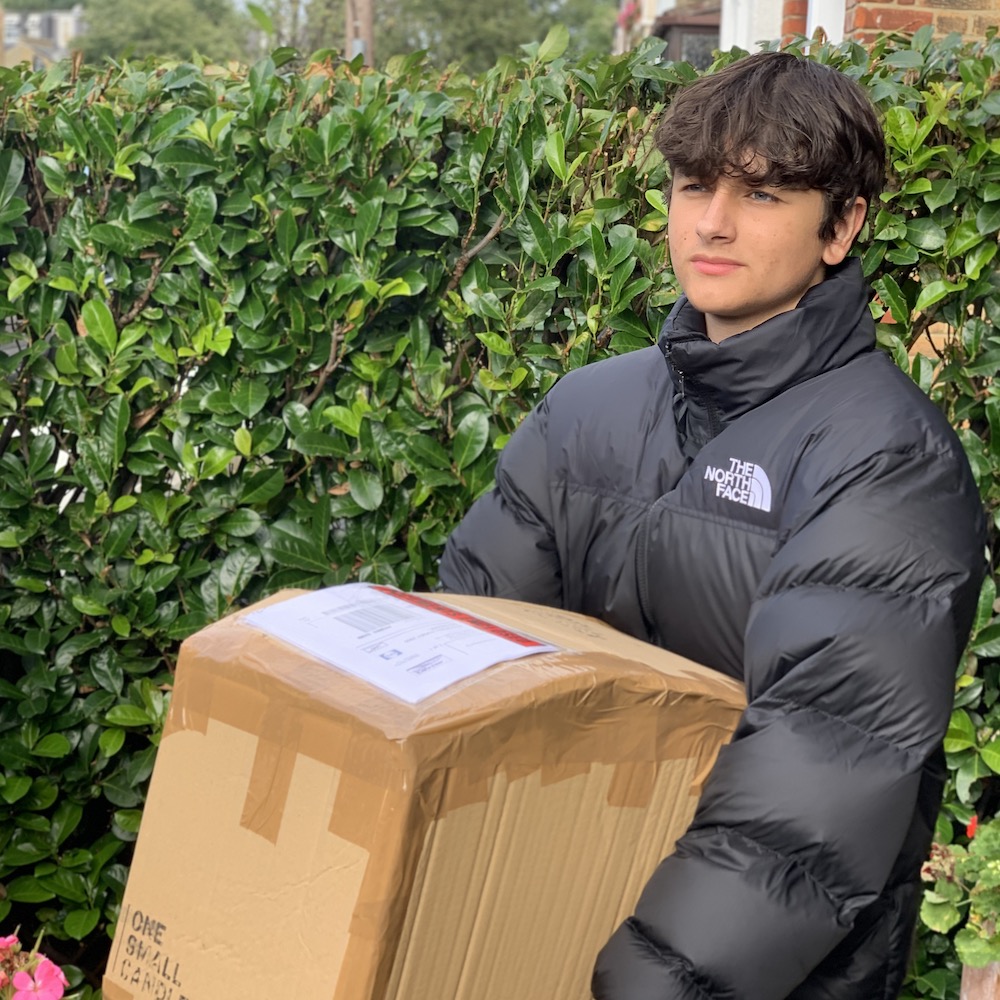 We were delighted to learn of a collaboration between two of our alumni recently. Actually, let's correct that: one of our alumni and the son of one of our alumni. 
Jacob Bell (pictured above with a delivery) started making candles in 2017 at the age of 12 because he was entranced by his local Christmas Fair in Hither Green, south London, and wanted his own stall there. 
 "I decided on candles, as once I'd worked out the best technique (I blocked the kitchen sink with wax the first time) then they actually aren't much harder than making a cup of tea," said Jacob. 
The refugee charity right opposite his school provided the inspiration to do some good with his product.
"I went to an event there and as soon as I realised how little kids my age and their families had after being forced into refugee status, then it was a no-brainer for me. I realised I didn't need the money as much as other people," said Jacob.
His idea took off, and he thinks he has now made several thousand candles since he started. Regular orders come from the Eden Project (whose founder, Tim Smit, is another one of our Experts) and at one point he was exploring exporting to Japan.
"I spent a long time working with a business agent in Japan and UK government export advisor after a hotel, barbers and design store in Tokyo really liked some samples I sent over, but it was a real disappointment that the shipping costs trebled the wholesale price, so we couldn't go ahead at the right retail price. I'll keep trying though," said Jacob.
With 100% of the profits going to good causes, One Small Candle has paid for the purchase of a delivery van for Jacob's local refugee charity and food bank and he's on course to fund a second van by the end of the year. 
He's also exploring a partnership with the charity Maloto in Malawi, who already produce honey and have approached Jacob for advice and a collaboration using their excess beeswax.
Dad Alex told Jacob about Change Please founder Cemal Ezel after he'd heard him speak at an Expert Impact event at The Conduit Club earlier this year. After Jacob sent Cemal some samples, he agreed to stock them at the Change Please location in Elephant Park.
"100% of our profits at Change Please and One Small Candle go into giving people a fresh shot at life and some light in their darkness. We're over the moon with this exciting new partnership," said Cemal. 
If you'd like to buy a One Small Candle product and you're not near a Change Please outlet, you can buy them here. 
Jacob is the son of Alex Bell, the founder of Portland Education, who used Expert Impact for some mentoring from Alexandra Kelly in 2017. Like your own mentor? Start here.