INSIGHT
Human Lending Library expands to Manchester
Thanks to players of People's Post Code Lottery, we've been able to open a second branch serving the north of England.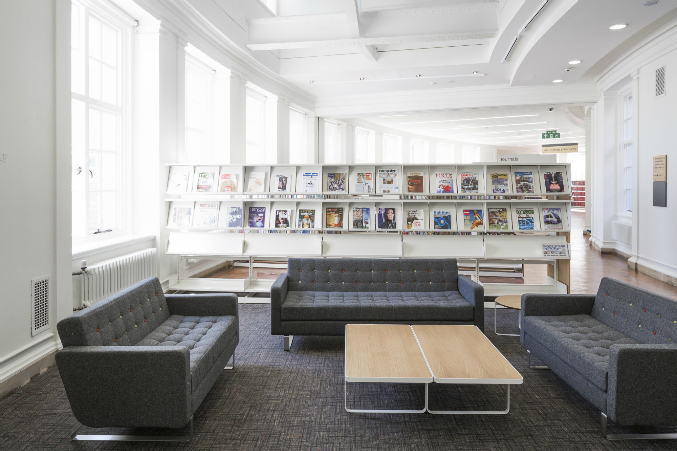 We're delighted to announce that we have opened a second branch of the Human Lending Library® in Manchester.
Until now the initiative has only operated out of the British Library in Kings Cross, London.
The Manchester branch, which is supported by players of People's Postcode Lottery, will be the first of several new branches to be announced over the next 12 months. 
"After proving the model works in London, we are delighted we can expand the reach of the Human Lending Library by making it more accessible to organisations creating positive social and environmental impact in the north of the UK," said Kendra Walsh, Director of Expert Impact.
The Manchester branch of the Human Lending Library will be run from the Business and Intellectual Property Centre (BIPC) at Manchester Central Library (pictured above).
As well as offering access to industry-standard information resources, BIPC Manchester delivers talks, workshops, demonstrations and networking opportunities, plus one-to-one advice at patent and IP, accountancy, and commercial legal clinics.  
The recent "Democratising Entrepreneurship" report, issued by Arts Council England, revealed that from 2016 – 2019, BIPC Manchester helped to create nearly 2,000 new businesses, generating a payback of £6.95 for every £1 of public money spent. 
"This new partnership with Expert Impact is a great way for our flourishing Business & Intellectual Property Centre at Central Library  to further bolster the range of support it provides to local businesses and enterprises, with this attractive offer for those who are working to improve our communities and the environment in Manchester," said Councillor Luthfur Rahman, Manchester City Council's Executive Member for Skills, Culture and Leisure.
For more information, see our 'How it works' section.