Marco Barbosa,
eSolidar
Met with Frank Meehan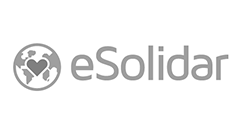 eSolidar is a comprehensive social e-marketplace that provides new and innovative way for charities to raise funds online. Each purchase at eSolidar makes a difference.
We are a social impact startup that uses technology to empower charities and individuals. Our goal is to provide charities with an alternative means of fundraising and to raise awareness through an online platform.
We are a dynamic team that is passionate about developing technology and creating social impact. Our focus is to harness these tools to create an online community that benefits charities around the world.
eSolidar is an innovative online platform for people to support the causes they really care about.
It is our goal at eSolidar to be the all-encompassing way for charities to fundraise online in a timely and cost-effective way, creating an online community that can help charities from the bottom up.
Listen to Marco tell you how eSolidar works and where they want to be in five years time in this short video.
Frank has a very clear vision about what path would be more suitable for us and which steps we should take to grow the company. Hope to keep having his feedback and advice as we grow.
Marco Barbosa, CEO of eSolidar